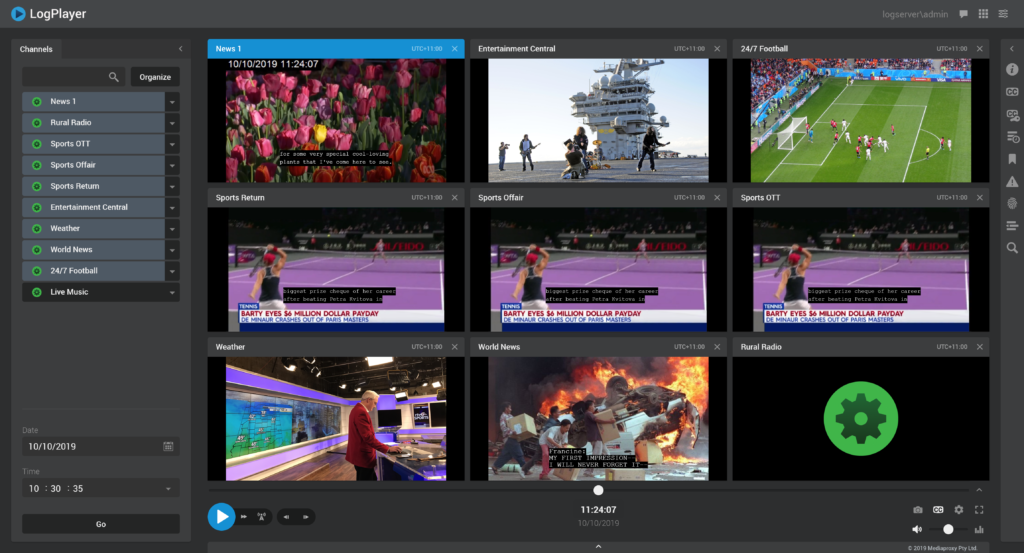 Your Trusted Platform for Regulatory Compliance
LogServer
ver changing regulations imposed by legislators and governing bodies require broadcasters to demonstrate the highest standard of compliance.In just over a decade, logging has evolved from a narrow compliance role to offer monitoring and revenue generating capabilities for broadcasters, cable & satellite operators and OTT providers.
Looking for a Volicon Observer replacement? Engage with the number one platform for compliance logging trusted by AMC, PAC-12, FOX NE&O and hundereds of broadcasters in the US and worldwide.
Review, Search, Extract
The
LogServer
platform provides seamless multi-­channel recording, review and live monitoring of video, audio and real-­time data sources from 4K/HD/SD IP, SDI, SMPTE2022-6, HLS, RTMP, MPEG-DASH and SmoothStreaming sources.
Mediaproxy's leading edge desktop and mobile user interfaces provide seamless access to media via intuitive play controls as well as extensive meta data search, clip export and transcode to a wide range of formats. All across multiple distributed systems on any local or wide area network.